The Levante: A Maserati SUV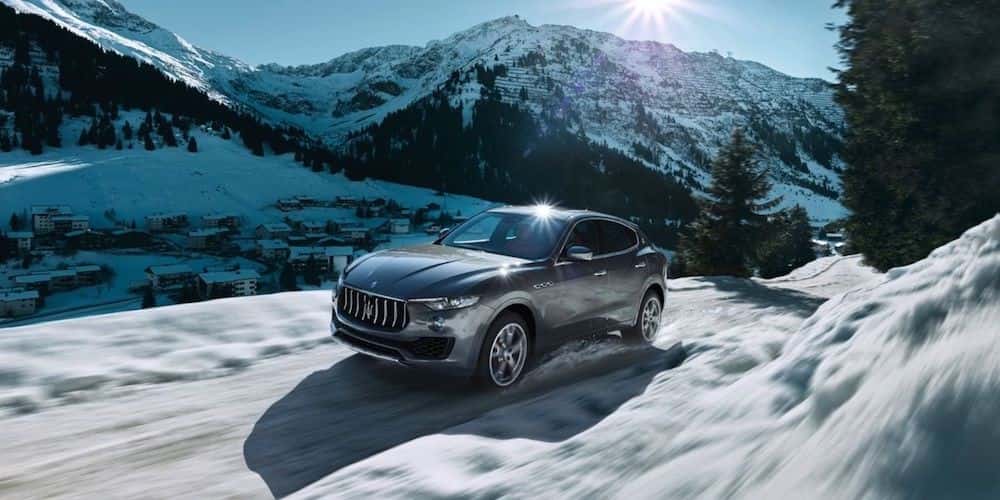 Maserati.
The name alone speaks to exclusivity; and it is a sense of exclusivity which is infused into the experience of owning or driving a Maserati. It speaks to those who truly enjoy the experience of driving; those who truly appreciate performance, as well as a sophistication in engineering and craftsmanship required to deliver it. With a legacy built upon the benchmarks of Italian design and racing excellence, the Maserati brand has always been synonymous with expressions of luxury. What is has never been linked to is sport utility. Until now…
A Maserati SUV
Within the highly competitive SUV class, even luxury brands are challenged to design an offering that will stand confidently apart. With their entry, Maserati has validated a widely known rule of business: why compete, when you can innovate?
The Maserati Levante refines sports utility on its own terms and, in doing so, it honors the ideal of exclusivity. To paraphrase the manufacturer, they did not set out to create an SUV; they set out to create a Maserati. And with that in mind, their success is inarguable.
Aptly-named after a Mediterranean wind, the Levante embraces an elemental feel that is evocative of its namesake. From its distinguished, sleek silhouette, to its elegant interior crafted of rich materials, the design of the Levante is deserving of the Trident badge that echoes throughout its design, as well as its inherent legacy.
The profile of the Levante conveys a heightened elegance absent from so many in-class competitors. While it evokes elements of traditional SUV body styling, the aquiline flow of the contouring steers it back towards the athletic curvature of the Ghibli and Quattroporte. A new paradigm of Maserati design, it speaks of power and performance. But when one thinks of Maserati there is so much more than just sophistication of aesthetic. As one would expect, the Levante is expertly engineered, innovative in its 50/50 weight distribution, ensuring a balanced sporty feel which its competitors struggle to strike.
But that is just the beginning…
Anything But Standard
The all-wheel drive Levante comes standard with an eight-speed automatic transmission. Powered by a twin-turbocharged 3.0-liter V6 engine, drivers can opt for either a 350hp or 425hp depending on the trim level selected.
Regardless of trim level, the Levante offers plush accommodations for both driver and passengers. A contoured interior sculpted from rich materials reward the expectation of sophistication, and the forward cabin design affords the driver a spacious experience.
Of the two trims available, the former is the base level Q4 which serves up 369 lb-ft of torque, and delivers 20mpg (highway, 14 city). With seating for up to five, the leather interior includes adjustable seating and programmable driver settings. Keyless entry and ignition are among the countless driver-centric conveniences, and a low-seating position creates an optimal driving experience.
Building out from a substantial 8.4-inch touchscreen and an eight-speaker sound system, the Levante's infotainment system incorporates Bluetooth connectivity as well as Apple CarPlay / Android Audio smartphone integration. Music can also be enjoyed through satellite radio, USB port and SD-card reader; and through the input compatibility, video content can be viewed on the touchscreen for added passenger enjoyment. For ease of use, the Levante includes a console-mounted control knob standard.
Wrangling a 75 horsepower jump over the Q3, the S trim serves up 428 lb-ft of torque while remaining  consistent in terms of fuel economy. In terms of design, it is enhanced with the inclusion of a panoramic sunroof, refined leather upholstery, and column-mounted shift paddles. But the enhancements are not cosmetic alone. Upgraded brakes, rear parking sensors and a blind-spot monitoring system provide an increased assurance of safety for all drivers.
Enhance The Experience
Additional options empower owners to further customize their Levante experience.
The Sport Package creates a more aggressive racing-inspired look courtesy of 20-21" wheels, rear spoiler, colored brake calipers, and sport-designed seats.
The Luxury Package focuses on refining the interior, with optional color schemes, high-end wood grain and metal accents, as well as an enhanced sound experience. The sound system can be further upgraded to a 14-speaker Harman Kardon or a 17-speaker Bowers & Wilkins sound system. Ultimate sophistication comes courtesy of designer Ermenegildo Zegna, who partners with Maserati in optioning woven silk embellishments to the seating, door handles, roof lining and sunshades.
The Advanced Driver Assistance Plus package provides an even greater assurance of safety, complimenting the rear camera, traction / stability control, and antilock brakes which come standard. Adaptive Cruise Control monitors the vehicle ahead of you, accelerating and braking to maintain a pre-set safe distance. This blends the convenience of highway cruise control with the convenience of daily city driving. Blind Spot Alert and Rear Cross Path Detection allow for even greater proximity awareness and Forward Collision Warning anticipates any risk of collision with the vehicle immediately ahead of you, working with the Advance Brake Assist system to aid in emergency stops.
Exclusively Levante
In every facet of its being, the Levante conveys very deliberate intentions in design and engineering. With other luxury car manufacturers focused on creating their best version of the midsize crossover, Maserati had no desire to fit in to a pre-established mold. Ultimately, that is what makes the Levante different from its competitors, and such a successful achievement in terms of the goals Maserati had set for themselves.
While the Levante may falter in terms of actual sports utility, rest assured that it was never designed with utilitarian use in mind. Maserati entered the SUV class because they could, and because they wanted to deliver a design that was unmistakably and luxuriously on-brand. Uncompromising in terms of design, engineering, and performance, the Levante is an exceptional realization of a Maserati SUV. It succeeds in being exactly what it was designed to be.    Is the Levante right for you? At Maserati of Albany, we can help you decide.