Maserati Unveils Updated GranTurismo and GranTurismo Convertible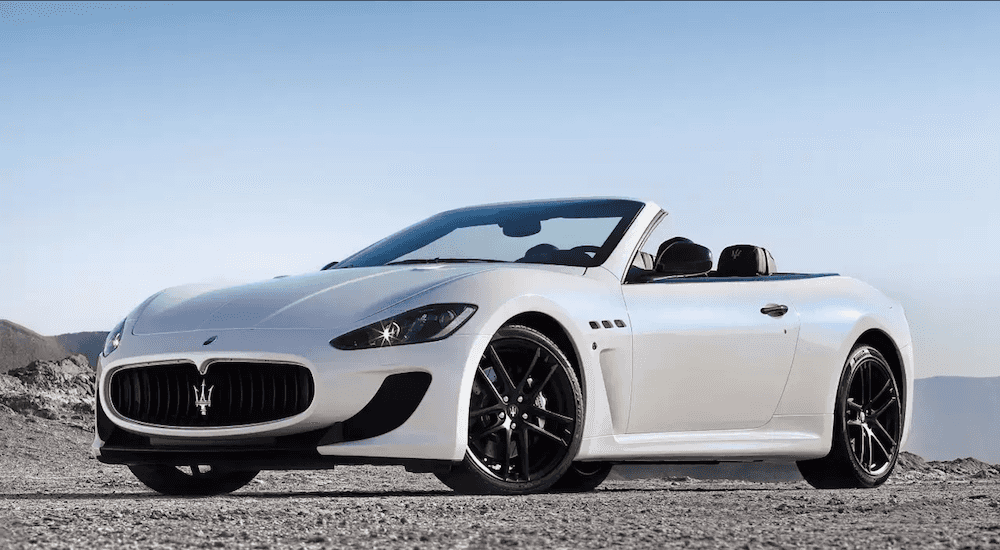 If you are a Maserati dealership in New York, excitement continues to build with the unveiling of the stunning new GranTurismo at the New York Stock Exchange this summer. Both the updated four-seater versions of the GranTurismo coupe and GranTurismo convertible are being introduced with refinements to the exterior design and interior cabin. Our Maserati dealership in Albany, NY eagerly awaits these new vehicles on our showroom floor.
Celebrating 70 years of GranTurismo, Maserati, the venerable Italian carmaker, chose to unveil its decade-old flagship high performance vehicle on the narrow cobblestone streets at the main entrance of the New York Stock Exchange on Wall Street, where high-flying financiers are accumulating wealth and adding to their portfolios and bank accounts. The CEO of the Trident-badged automaker, Reid Bigland, was given the privilege to ring the closing bell at the New York Stock Exchange and announce the launch. Everyone who came to witness the launch was impressed with the new aggressively-styled Maserati, calling it gorgeous, Italian, and maintaining its growling sound like a supercar should.
On the other side of the Atlantic, at the prestigious Goodwood Festival of Speed, Maserati unveiled the convertible version of the new GranTurismo. Goodwood is located just outside Chichester, only 60 miles from London. On the grounds of the festival and estate, there were two GranTurismo MC models at the Maserati stand, one in "Rosso Magma" with a black leather/Alcantara interior and one in "Grigio Lava" with "Rosso Corallo" leather upholstery. A GranTurismo Convertible Sport was on display in "Blu Assoluto" with a "Bianco Pregiato" interior.
What's new?
The new GranTurismo coupe and convertible will be offered in two trim levels: Sport and MC. Both will have the Ferrari-built 4.7-liter V8 with 460-horsepower and 383 pounds-feet of torque, mated to a six-speed automatic transmission. The base Sport trim will post from 0-60 mph in 4.8 seconds while the MC (Maserati Corse) posts 0-60 mph in 4.7-seconds.
After ten years of solid popularity and style for its beauty, Maserati engineers decided it was time that the GranTurismo got an upgrade to give it more character. One of the first things that everyone notices on its exterior is its more sculpted, hexagonal sharknose grille and a redesigned rear bumper with sharper lines. This new design adds a three-dimensional effect to the frontal view. The round front fascia has been removed making it more rigid. By making those front end changes and lowering the air ducts, Maserati engineers feel that it will increase airflow and help to decrease the drag from 0.33 to 0.32 for the GranTurismo coupe and from 0.35 to 0.33 for the GranTurismo convertible.
Interior Updates
Those who enjoy the Maserati's reputation for fine-tailored style and luxury will not be disappointed by the new GranTurismo coupe or convertible. Both offer unparalleled comfort to their passengers. The two-tone leather and wood cabin interior offers newly standard Harman Kardon audio systems to listen to your favorite rock or opera soundtracks and individual Poltrona Frau leather trim seats with integrated armrests, and a special Maserati double dial clock. For those who want to upgrade even further, new owners can have their GranTurismo include Alcantara leather upholstery. Backseat passengers will be pleased with by the roomy rear seat accommodations.
The center console on the new GranTurismo has been redesigned as well. A new arrangement of forged aluminum knobs and buttons has been moved to the lower central console next to the shifter giving the driver control over the interior climate and driving modes. The all-new infotainment system is equipped with a new 8.4-inch touchscreen with Apple CarPlay and Android Auto smartphone integration capabilities that incorporates a reversing camera.
Behind the Wheel
In making the debut of both the coupe and convertible, Maserati engineers have not lost sight of another key aspect of these vehicles: the sporty drive. Behind the wheel, the new GranTurismo models have been upgraded but not lost their style, comfort, or handling. Those who have taken it for a test drive praise it for its excellent turning and unshakeable stability even on rough roads.
Since its launch in 2007, the GranTurismo has evolved into one of the most iconic GT cars ever built. It is the latest Maserati designed by Pininfarina. The GranTurismo Convertible made its debut in the 2009 Frankfurt Motor Show as a 2010 model. Both GranTurismo models have gained reputations as the ultimate expression of Maserati's passion, technology, and craftsmanship. Each one has high anticipation before a launch and is unique in the supercar segment, due to its timeless design and comfortable four-seat interior.
Current Showroom Models in Albany
If you can't wait for these new beautiful luxury models to be available at our Albany, NY dealership, we have on our showroom floor the 2017 GranTurismo. We can also order the 2017 GranTurismo convertible if you are interested. This beautiful model offers standard equipment such as 20-inch alloy wheels, 10-way power adjustable heated front seats, front and rear parking sensors, dual-mode sports exhaust system, adaptive HID headlights, heated power folding and auto-dimming mirrors, and adjustable suspension dampers. If you really want to amp up your 2017 GranTurismo, you can order a special interior carbon package. This will give you and your passengers an additional lap of luxury by accenting the dash and door panel trim with a carbon finish, expensive carbon fiber door entry guards, and a center console decorated in carbon fiber. But that's not all. Your paddle shifters and instrument cluster will be clad in carbon fiber as will your black leather steering wheel.
Over the years, this has been one of our most impressive models. The 2017 GranTurismo coupe is no different. In its DNA is the Maserati brand's race car heritage and its plush Italian design. In fact, Maserati has produced more than 37,000 GranTurismo and GranTurismo Convertible models in the historic factory of Viale Ciro Menotti in Modena.
We invite you to come in and take a test drive at Maserati of Albany. We know you'll walk away after driving a Maserati with an unforgettable experience. We're pleased to offer our customers with a first-rate experience at our dealership that provides you with the intimate knowledge about the world-class heritage of Maserati engineering and design. In addition to our unbeatable selection of high-end Maserati models, we've staffed our garage with a superior team of factory-trained and certified Maserati technicians. We look forward to serving you.