Maserati of Albany: Shop with Satisfaction
Shopping for any new car is exciting, but shopping for a new Maserati is a truly amazing experience. Knowing that you will be driving off the lot in a gorgeous Italian luxury sports car is a feeling like no other – which is why if you are shopping for a Maserati for sale, you don't want to visit just any old dealer or go through a private seller. If you want to experience luxury at its finest and make the most out of your shopping experience, then visit Maserati of Albany and let us get you into the Maserati of your dreams.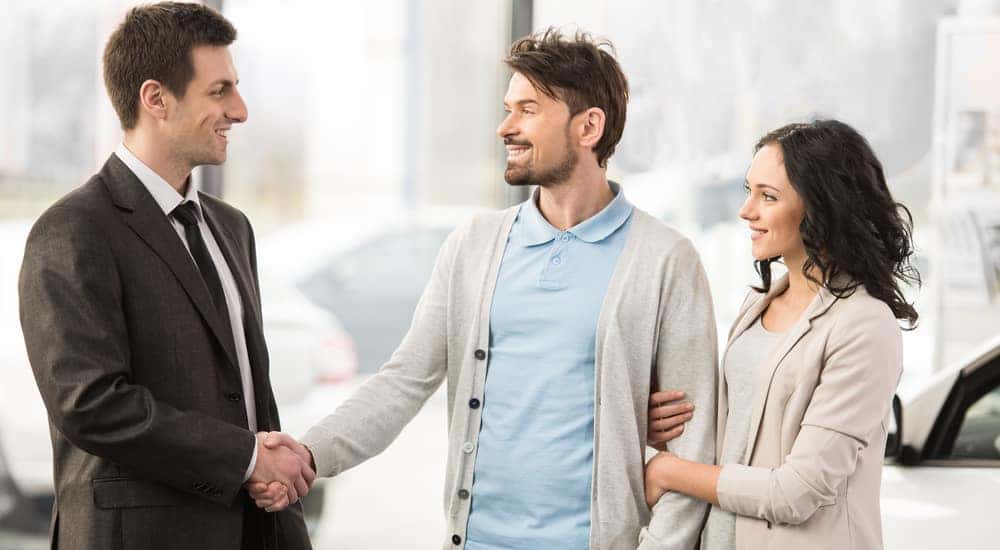 Maserati of Albany: Introducing our Superior Sales Team and our Convenient Hours
When you visit Maserati of Albany, you'll know immediately that you aren't just in any regular car dealership… and no, that's not just because our showroom is filled with gorgeous models such as the Maserati Quattroporte and the Maserati Levante. It's because we treat our clients with the respect they deserve. It is our goal to make your shopping experience a pleasurable one, which is why our sales team is thoroughly trained and extremely well-versed in all things luxury cars – so even if you aren't sure if you're in the market for a new Maserati or if you're interested in checking out our extensive inventory of used luxury vehicles, we know that our team is going to be able to provide you with the very best service possible.
 
We also know that making the decision to buy a new Maserati or a used luxury car is not one that should be taken lightly, which is why our sales team will never push you to make a purchase you are not one hundred percent comfortable with. At Maserati of Albany, we want you to be thrilled when you drive off the lot – not suffering from buyer's remorse.
 
Additionally, as part of our commitment to providing superior service, we offer extremely convenient hours so that you don't have to cancel plans or shuffle your schedule in order to come visit the new line up of Maserati sedans, SUVs and sports cars. Maserati of Albany is pleased to be open Monday through Thursday from 9:00 AM to 8:00 PM and Friday and Saturday's from 9:00 AM to 6:00 PM. Because we value our staff as much as value our clientele, Maserati of Albany closes it's doors on Sunday to allow our hardworking team to take a much-needed break and to recharge for the week ahead while spending time with friends and family.
Maserati of Albany: Our Service is Stellar
Of course, once you've made the commitment to buy a Maserati or any of our luxury used models, you'll want to keep your ride in tip-top condition. The best way to ensure your car is getting the detail and attention it (and you deserve) is to bring your car in for regular service appointments at our service center. Our service center is staffed by factory-trained and certified Maserati technicians, giving you the peace of mind that your car is in the very best hands, no matter if you just need a standard oil change or something a little more involved.
At Maserati of Albany, we know that your time is extremely valuable and you don't want to waste a minute of it spending time trying to schedule service appointments over the phone or online, which is why we are happy to be able to offer our customers the ability to schedule their service appointments right online. Simply visit Maserati of Albany's service page on our website and select "Schedule Service." From there you can easily and quickly make an appointment to get a filter replacement, tire rotation, coolant flush or any other service your Maserati is in need of. It's fast and efficient – just like our service technicians, who always strive to get your vehicle back to you as soon as possible and in the very best condition.
 
Even the very best things in life sometimes need a little TLC and we know that your Maserati is no different – which is why we have both a parts department and a custom detailing department right on site. If you are shopping for an extra-special part for your Maserati or want to give your Maserati a little freshening up, simply visit our parts department Monday through Friday from 8:00 AM – 5:00 PM Monday through Friday or our custom detailing department from 7:30 AM to 5:00 PM Monday through Friday. And you can always feel free to simply give our service, parts, and custom detailing departments a call at (518) 313-1759. Remember, we're here to help you make the most out of your Maserati and we're always ready to take your call.
Maserati of Albany: Finding the Best Financing Options for You
One of the most stressful parts of buying a new Maserati or used luxury car is the financing aspect – but not at Maserati of Albany. Our team of financial professionals is always on hand to help you find the most competitive interest rates and the best possible loan terms for you. In fact, you can even get the ball rolling before you even step foot into our dealership. Simply visit us online and fill out our online financing application and let us go ahead and get you pre-approved. You'll save time and worry when you know exactly what you're approved for and our team will be able to help you secure the best financing options available. If you'd rather not handle your finances over the internet, we understand, and we welcome you to come visit us at our Maserati of Albany so that we can look over your options and get you pre-approved in person.
 
If you're excited about driving a Maserati but you are not sure you're ready to make a long-term commitment to a specific model, talk to our finance and sales team about the option of leasing one of our fine Italian models. You may find that the monthly payment on a leased Maserati is a little more in line with your comfort levels and frees up some additional cash flow. In fact, you may even find that you're excited to turn your model in for an even newer model a few years down the line… with the new amenities and the updated technology that comes out year-after-year, it makes sense to lease a Maserati if you like to stay up-to-date with the best cars on the market.
Maserati of Albany: Visit Us and Enjoy a New Level of Luxury
No matter if you decide to buy or a lease a new Maserati or purchase any one of our fantastic used luxury vehicles, we know that once you visit Maserati of Albany, you'll be amazed at our fantastic sales, service and finance teams – because they are all here to work with you, our valued customer. Please stop by and visit us at 1101 Central Avenue in Albany and you'll soon see that it's not just our luxury cars that set Maserati of Albany apart, it's the level of service and satisfaction that we pride ourselves on delivering to our valued clients.
However you reach out, we look forward to meeting you!
Get In Touch