Building a 2018 Maserati Ghibli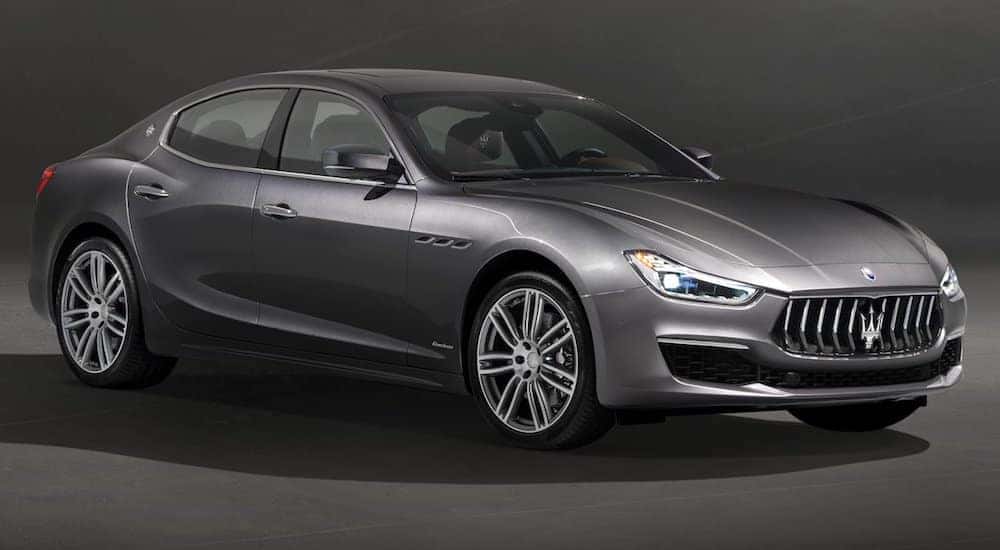 Are you in the market for a luxury car? Then you've surely come across the opulent 2018 Maserati Ghibli, which has proven to be one of the most impressive vehicles on the road. However, just because you may have zeroed in on this specific nameplate, it doesn't mean your decision-making is over. Rather, a prospective buyer should be prepared to make a number of choices as they're building their new luxury vehicle.
Below, we've explored all of the options customers will have as they're designing their brand-new Maserati Ghibli. Take a look at the choices, and you'll be better prepared when you head to a Maserati dealership to buy a Maserati for sale…
Exterior Design
First, prospective buyers will have to personalize their new Maserati Ghibli with one of the brand's many paint offerings. Each of these offerings provide their own specific opulence to the nameplate, so you certainly won't make a wrong decision regardless of your final choice. The metallic offerings include:
Nero Ribelle ($925)
Grigio Maratea ($925)
Grigio ($925)
Grigio Metallo ($925)
Bronzo Siena ($925)
Champagne ($925)
Blu Passione ($925)
Blu Emozione ($925)
Rosso Folgore ($925)
Ross Energia ($925)
Bianco Alpi ($2,700)
Maserati also offers a pair of non-metallic offerings, including Nero and Bianco. In other words, your options are practically endless.
When it comes to your new Maserati's exterior, the decision making hasn't ended at that point. You'll still have to determine which wheel offering you're going to opt for. Fortunately, there are a number of logical options, including:
19-inch Poseidon
19-inch Apollo ($400)
19-inch Proteo ($400)
20-inch Urano ($1,650)
20-inch Urano Diamond ($1,950)
21-inch Titano Anthracite ($4,300)
Finally, when it comes to the exterior, customers will have the chance to choose from an assortment of brake caliper offerings, including:
Grigio
Nero ($800)
Rosso ($800)
Blu ($800)
Argento ($800)
We're not mathematicians, but there are clearly thousands of different exterior combinations that drivers can opt for. Ultimately, you'd be hard-pressed to find another Maserati Ghibli that's identical to yours.
Interior Design
If you're truly looking to personalize your new Maserati Ghibli, then you'll appreciate the host of options that are available in the vehicle's interior. It naturally starts with the vehicle's array of leather upholstery options. The cabin is automatically adorned with a sleek Nero leather, but customers can opt for several additional offerings, including:
Cuoio
Sabbia
Marrone
Blu
Rosso
Nero/Grigio
Nero/Cuoio
Nero/Rosso
Rosso/Nero
Whether you're looking to add an athletic or opulent persona, it will all be possible thanks to the Ghibli's array of options.
Next, there are a number of elegant trim options that customers can turn to as they're designing their new sedan. The Maserati Ghibli can be adorned with any of the following colors:
Dark Mirror
Radica ($1,400)
Rovere Chiaro ($1,400)
Ebano ($1,800)
Black Piano ($2,500)
Carbon Fiber ($2,850)
Similar to the nameplate's exterior, there are a number of combinations that customers can ultimately opt for.
Packages
Looking to personalize your vehicle even more? Maserati's engineers cleverly included a pair of available package options that will transform your vehicle's performance, opulence, or convenience.
The Interior Carbon Package, which comes in at $4,500, includes a number of carbon amenities. This means occupants can appreciate the carbon shift paddles, carbon fiber door entry guards, and carbon fiber amenities. To top it off, the brand includes a sport steering wheel with a carbon insert, leading to both a sporty and opulent design.
Alternatively, drivers can opt for the Driver Assistance Package, which comes in at a more affordable $2,800. The brand had added a number of useful amenities to this specific offering, and they should play a significant role in keeping drivers out of harm's way. It starts with the appreciated surround view camera system, which allows owners to constantly view their surroundings. Thanks to this inclusion, there's a good chance that drivers can avoid pesky fender benders. The unit also includes the clever Traffic Sign Recognition, which will simply serve as an extra set of eyes if you're a bit distracted while driving. Perhaps the most notable inclusion is the Adaptive Cruise Control with the Stop and Go Function. This technology is similar to your standard cruise control unit, but the accompanying sensors can detect for traffic. That way, the vehicle can slow down or accelerate when necessary, provide the operator with the utmost convenience.
Accessories
There are a number of additional ways that drivers can personalize their new ride. These accessories influence different areas of the nameplate, and we've listed all of the offerings below.
Exterior Equipment
Soft Door Close ($770)
Rear Laminated Glass (Sun/Noise Absorbing) ($400)
Heated Windshield Washer Nozzle ($100)
Light Exterior Carbon Kit ($2,650)
Interior Equipment
Premium Rear Armrest ($100)
Carbon Shift Paddles ($1,000)
Door Entry Guards in Carbon Fiber ($600)
Power Rear Sunblind ($700)
Wi-Fi System with Mobile Sim ($750)
Alcantara Roof lining and Pillars ($1,500)
Extended Leather Surfaces ($950)
Premium Natural Drilled Leather Interior ($3,250)
Premium Natural Leather Interior ($3,250)
Front Seat Ventilation ($900)
Rear Seat with Three-place Heating ($625)
Wood-Leather Steering Wheel ($500)
Leather/Wood Heated Steering Wheel ($550)
Sport Steering Wheel Heatable ($330)
Sport Steering Wheel with Carbon Insert ($1,000)
Steering Wheel Shift Paddles ($550)
Inox Sport Food Pedals ($200)
Power Foot Pedals ($400)
Smokers Kit ($85)
Harman Kardon Premium Sound System ($2,000)
Bowers & Wilkins Premium Surround Sound System ($3,000)
Safety
Highway Assist ($200)
19-inch All-Season Tires
20-inch Summer Tires
20-inch All-Season Tires
Power Trunk/Hands-Free ($700)
Skyhook Electronic Damping Control ($2,900)
Now that you can envision your picture-perfect Maserati Ghibli, it's time to start shopping! Well, those living in the Albany, New York area should be visiting Maserati of Albany immediately! The dealership isn't only stocked with a number of the brand's vehicles. Rather, they also provide a number of services that are intended to improve the entire buying experience. In other words, if you're looking for a quick, stress-free endeavor, there's no better dealership to visit than Maserati of Albany!