2017 Maserati Ghibli – Albany, NY
If it's a combination of style, power, sports handling, and luxurious comfort you're looking for, then you should buy a 2017 Maserati Ghibli in Albany, NY. It comes in three trim levels: base Ghibli, S, and SQ4. The SQ4 is the AWD trim of the trio, and along with the S, both trims provide more horsepower than the base model, along with additional features. If you don't want to spend the full amount of money on a whole new trim level, then it's possible to get either one of the Luxury or Sport packages that's been updated for 2017. If it's just the design you're looking for, then the base Ghibli is exceptional as is. However, if you want more power and athleticism out of your ride, then definitely go for the S or SQ4 trim.
What's the Maserati Ghibli able to offer you? An elegant and athletic design, inside and out, along with adrenaline-pumping performance.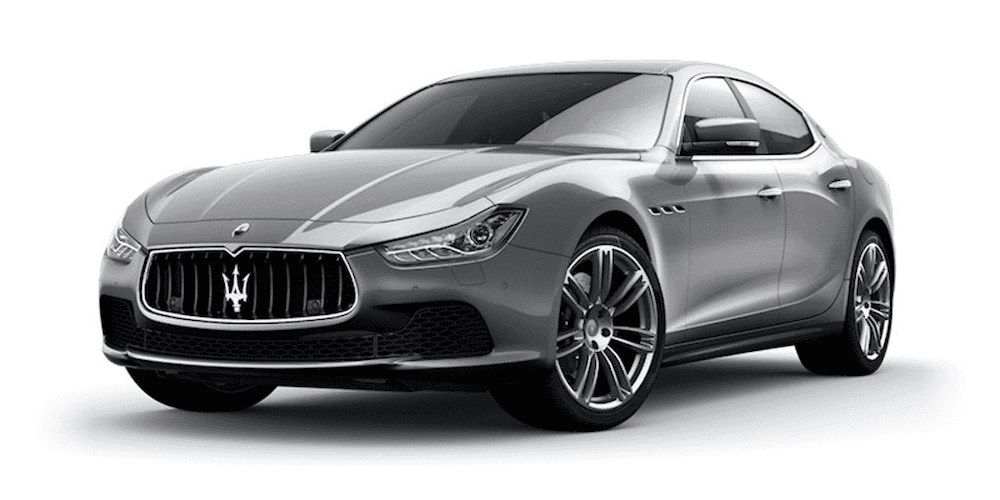 Twin-Turbocharged V6
Engine


Elegance in Design
Other than elegance, luxury, and power, the Ghibli exudes another aspect: unmistakable Italian styling. It's that head-turning styling that Maserati has been able to inject into its cars for many years and 2017 is no different. The Ghibli is proof that Maserati is far from done with the luxury-sports market, and both the outside and inside of the Ghibli are meticulously crafted to entice and excite the senses.
Exterior
The Ghibli is truly a wonder to behold. Maserati's famous concave slotted grille allows the trident to command attention at the forefront, while stylish and sleek headlights match the wide and sweeping curve at the front of the hood. The hood has, clearly, not only been designed in an elegant arch to aid in appeal, but also aerodynamic efficiency. That dual-purpose is also found on the curvy front fender flares, which sit on top of deep wheel-wells. The windshield matches the same smooth arch of the hood, where it leads to a flat and practical roofline.
On the back, the entire design tapers off drastically. Which, along with the athletic stance, gives the four-door model an appearance that's more akin to a sport-coupe rather than a four-door luxury car.
Then again, the Ghibli is clearly both meant for luxury aficionados and adrenaline-junkies alike, as reflected by its design.
Interior
On the inside, you'll find a bench seat in the back, along with the front driver and passenger seat. All told, the 2017 Ghibli is able to accommodate a grand total of five passengers. The seating (and entire cabin) looks more like the cockpit of a private luxury jet rather than a car, and it's really easy to get lost in the immersive materials.
Leather and high-quality plastic are accompanied by chrome and metallic trim, with metal sport pedals rounding off that athletic feel on the inside. The smooth and elegant lines of the dashboard and central console are further defined by the soft leather upholstery that can be used as cabin trim on the dashboard and door panels, giving the driver and passengers a much more relaxed drive.
Speaking of upholstery, while the standard leather is nice, you'll want to grab the Ermenegildo Zegna, natural fiber, Mulberry Silk inserts. Furthermore, if these inserts are chosen, then the cabin will be embellished with the same hand-stitched, micro-chevron pattern and matching material on the door panels, roof lining, sunshades, and even the ceiling light fixture.
Entertainment
A big part of luxury is refinement. It's for this reason that the Ghibli is also able to offer the best of the best when it comes to your music. Introducing the Harman Kardon Premium Sound System, which brings whole new levels of auditory bliss. It has 10 high-powered speakers that are all carefully positioned throughout the cabin in order to produce 360 degrees of sound reproduction. Regardless of the listener's seating position. It's also equipped with a special high-performance subwoofer to handle the low-end frequencies with ease. While mid-range drivers and tweeters ensure that you won't miss a single instrument.
It doesn't stop there because there's actually another sound system available if you want. It's a 15-speaker Bowers & Wilkins surround-sound audio system that places you in your own private concert hall. It's backed by a 16-channel, 1,280-watt amplifier that — along with the speakers — blends perfectly into the design of the interior. That means you're getting unparalleled sound, without tampering with the aesthetics of the cabin because doing so would be a real shame, given how great it looks.

Adrenaline-Pumping Performance
Then again it's called a luxury sports car. Because of that, you better believe this car can move. Thanks to a twin-turbocharged V6 engine that's been sourced from its Ferrari cousin, you'll have adrenaline-pumping performance every time you step on the gas pedal.
Why? Because this twin-turbocharged V6 engine has been designed to deliver maximum performance and driving excitement. Engineered by Maserati and built by Ferrari, it's exclusive to the brand. Impressive torque and high-horsepower are only two of the many great things about this engine.
Ghibli
On the base Ghibli trim, the V6 twin-turbocharged engine pumps out 345 horsepower and 369 lb.-ft. of torque to the 19-inch alloy rear wheels. This engine is paired standard to an eight-speed automatic transmission.
Ghibli S
On the Ghibli S, you'll get the same engine but with more power. Now, the twin-turbocharged V6 engine is pumping out a massive 404 horsepower and 406 lb.-ft. of torque to the rear wheels, which are either 19, 20, or 21-inch alloy wheels depending on whether the Sport package is equipped. Coincidently, those are also the same wheel sizes for the Ghibli SQ4.
Ghibli SQ4
If you opt for the Ghibli SQ4, then you're in for a real treat. Not only are you getting the same 404 horsepower and near-matching 406 lb.-ft. of torque, but you're also getting AWD.
Why is that AWD such a big deal? Because, thanks to the technology of the Q4 Intelligent AWD system, the Ghibli is one of the only luxury-sports cars on the market that can go from fun to controlled in a matter of milliseconds if inclement roads are detected.
This means the SQ4 is, in essence, a RWD vehicle – that is, until the AWD is needed. The Q4 system continually analyzes data to help optimize driving dynamics and fuel consumption. If road conditions turn slippery, AWD is activate within 150 milliseconds by transferring up to 50% of the power to the front wheels for maximum traction.
It's the best of both worlds: an exhilarating and sporty drive when you want it, and a safe and controlled ride when you need it.
We appreciate your interest in our inventory, and apologize we do not have model details displaying on the website at this time. Please fill the form out below and our team will quickly respond, or, please call us at 518-407-0777 for more information.

Maserati of Albany: Why Settle for Less?
Choosing a prestigious nameplate like Maserati means you refuse to settle for less. Clearly, the 2017 Maserati Ghibli is more than just a car: it's a work of art.
That's why you need a dealership that views the car business as a work of art, not merely a business transaction. You'll find that type of outlook here at Maserati of Albany. Why? Because we understand that driving a Maserati is an unforgettable experience, and we want the process of buying it to be unforgettable as well.
Therefore, we've made it our duty to provide our customers with an experience that's held to the same world-class standards that Maserati instills in its cars.
Don't believe us? See for yourself how Maserati of Albany in New York can provide you with a world-class car-buying experience today.